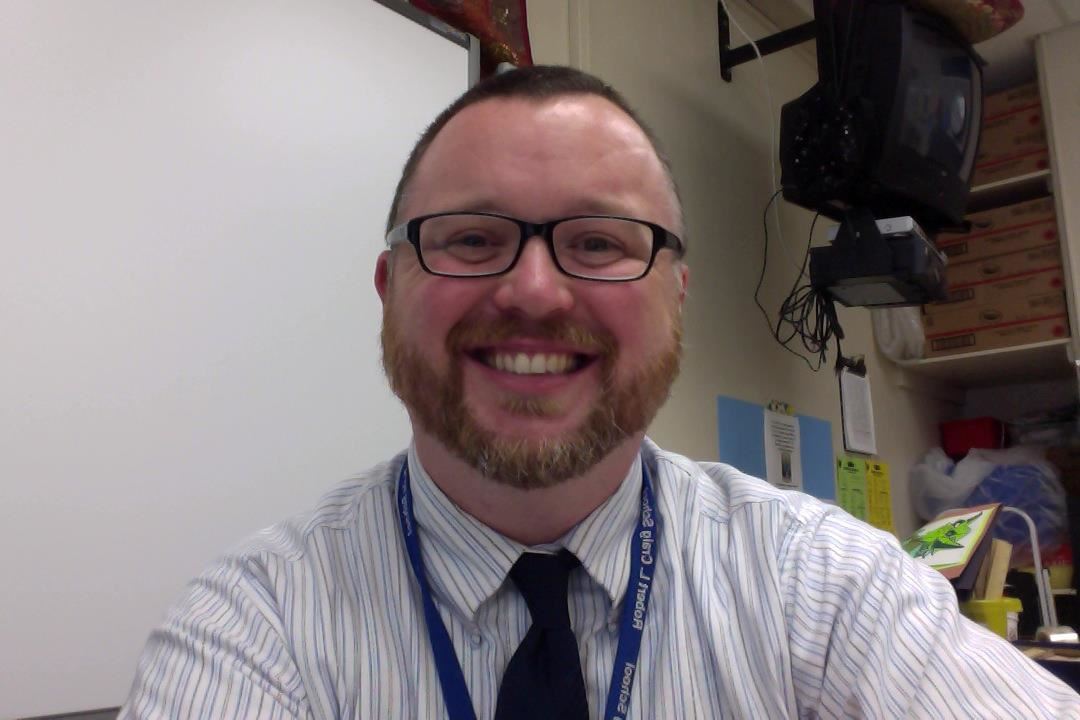 Phone:
Email:
Degrees and Certifications:
Mr.

Keelen

PLEASE GO THE THE CLASS HANDOUTS SECTION TO GET INFORMATION ON HOW TO SIGN UP FOR REMIND AND EDMODO.

Email me at: GKeelen@moonachieschool.org
Get to Know More About Your
Friendly Neighborhood Social Studies Educator


My central philosophy as an educator is that every student can rise to high expectations and holds the potential to change the world for the better.

This is why I bring an intense passion and enthusiasm for learning to the classroom every day, and I encourage each of my students to do the same.



Every child needs to be an active participant in their education in order to make true and deep connections to their lives. This is why I integrate art, music, theater, literature, science, technology, and character education throughout my social studies curriculum.



Each pupil in my classroom should not only gain a deeper appreciation and understanding of the importance, relevance, and impact of the events of humanity; they should attain a greater sense of their own moral individuality as well.

I feel that learning should never be stagnant. My students rotate each day through different stations where they engage learning through kinesthetic problem-solving, independent research, and small group instruction.

I am looking forward to another fantastic and engaging year filled with opportunities for learning for both my students and myself.

Biography:
The life, times, and many adventures of Mr. Greg P. Keelen



I was born in July of 1975 in Central New Jersey. Rumor has it, that I was born smiling. I come from a very large family, I have four brothers and three sisters. I also have over 100 cousins, with whom I am very close.



While in school I:

* played for the high school football team

* participated in the art, drama, F.C.A., and S.A.D.D clubs

* acted in several plays

* hosted the school news TV Show

* hosted a weekly radio show


Before becoming a teacher I was a man of many jobs, including:

* a singing waiter

* a shoe salesman

* a horticulturalist

* a pizza delivery man

* a construction worker

* a Zany Brainy Kidsultant

* a politcal consultant


In college I majored in history and education. Afterwards, I taught elementary education in Virginia for three years before returning home to New Jersey. I have since completed Masters of Science program specializing in Integrating Technology in the Classroom, as well as many other supplemental courses.


This is my fourteenth year teaching in my home away from home, Moonachie. Teaching Social Studies continues to be the fufillment of one of my life long dreams. I enjoy every second that I get to teach and learn from my amazing students.


I am married to my beautiful wife Sherri, and I am the very happy father to my daughter, Maggie, and my son, Danny. Plus a cat, Scamper.

Frequently Asked Questions of Mr. Keelen:

Do you really pay students for their work?

A: Yes. Students are paid for completed assignments; as well as for completing random acts of kindness or genius. Students can use their profits to earn special privileges.


What is your favorite color:

A: Dark Green


Who are your heroes?

A: I have many, but if I were to limit my list to two it would be: Dr. Seuss and Dr. Martin Luther King, Jr. One taught me to imagine while the other taught me to dream.


What is your favorite period of history?

A: Geez, I have a few! Let's break it up by grade level

6th Grade: Egypt

7th Grade: American Revolution

8th Grade: Debating current issues


What is your favorite food?

A: A giant slice of New Jersey pizza


What is your favorite band?

A: The Beatles


What is your favorite movie?

A: Star Wars, Episode 5: The Empire Strikes Back


What is your favorite book?

A: To Kill A Mockingbird by Harper Lee


What are your hobbies?

A: Reading, singing & rapping (poorly), listening to music, running, cooking, watching New York Yankees Baseball, NY Giant Football, going to museums, anything Marvel or Star Wars, frisbee, playing the occassional video game, but above all else . . . LEARNING!


Questions? Comments? Concerns?
Email it to me at: GKeelen@moonachieschool.org

This page was last updated on: 03/09/2020
COPYRIGHT 2004, GREG P. KEELEN, All Rights Reserved.